Press, Reviews and Videos
Scene, August 19, 2015
The A-List, Cleveland's Top Restaurants: 2015, 2014, 2013, 2012, 2011, 2010
Video: On the Road with Rizzo, February 2015
Video: TV20 Summer In The City Segment, July 2014
Video: Making Matzo Ball Soup, Passover 2014
Edible Cleveland, Spring 2014
WKSU, January 17, 2014
The Plain Dealer, November 2013
Cleveland Magazine, November 2013
Cleveland Magazine, May 2013
Video: Ruth Makes Mango Shrimp on Fox 8, May 2013
Cleveland Jewish News, February 2013
The News Herald, December 2012
Video: Kickin' it with Kenny, October 2012
Vegan Appetite Blog, August 2011
Cleveland Magazine, Sept 2009
The News Herald, August 2009
The Plain Dealer, August 2009
Metromix, August 2008
Fresh Fork, August 2008
The News Herald, January 2007
The Sun Courier, January 2007
The Plain Dealer, August 2006
The Sun, August 2006
Free Times, April 2006
---
Rising Star Chef: Ryan Kaston, Executive Chef
at Bistro 185
By
Nikki Delamotte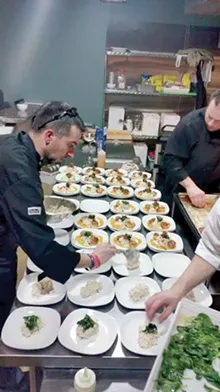 Standing in the rooftop garden at Bistro 185 (991 East 185th St., 216-481-9635, bistro185.com), Ryan Kaston can name each variety of herb, pepper and tomato that he's been using in his dishes since becoming the eclectic eatery's executive chef earlier this year.
"This restaurant has history," Kaston says, leaning against the wooden ledge that overlooks the Collinwood neighborhood. "We're coming up on our 10th year. I can't wait to take us into 10 more."
Adventure has always been as much a part of eating as process for Kaston, a perfect pairing for a multi-cultural restaurant like Bistro 185. Growing up with traveling parents, the chef's intrigue in ethnic cuisines started while tagging along to Haiti, the Caribbean and Jamaica, and it carries into his new role.
For a decade, starting at the age of eight, Kaston trekked through Canada every year on a two-week backpacking excursion, where he caught and made his own food and eventually became a trail guide for others. Pulling fish right from the water left a lasting impression on him, influencing new Bistro dishes like parrot fish and soft shell crabs today.
"I enjoy seafood more than anything else because I can trace it back to its origins; I can figure out when it was caught, how long it's been out of the water, how fresh it is," he says. "It's personal."
After graduating from Hocking College's culinary school, Kaston landed in good hands early on in his career, first landing at Moxie, where he worked with seafood, and then at Red, where he applied the same focus to meat. He would later move on to an executive sous chef position at LockKeepers, where the Italian fare recalled his youth spent scratch cooking with his grandmother.
But Kaston also is one for experimentation, swapping cooking with wine for cooking with rum when he took on Latin cuisine at Paladar.
"I was seeing the same fruits and vegetables I did when I was young and traveling," explains Kaston. "Plantains, banana leaves, mangoes, malanga roots and ingredients you don't usually think about that look gorgeous on a plate."
Meeting Abbe Turner of Kent's Lucky Penny Farm, who he had begun helping with her venture Farm Girls Pub, was influential in his desire to continue developing products from their earliest stages and built on his homegrown passion for farm-to-table. Together they put the given names of pigs and goats on the menu and Turner taught Kaston all about cheese-making. Today, he uses Lucky Penny goat cheese to make his own ranch for the Bistro's baby bibb salad.
After stints at Deagan's Kitchen, Heck's Cafe and Luxe, Kaston started his own catering operation, TasteBudFoods, in 2012. He's done everything from aiding new gardeners with ways to turn their harvest into feasts to hosting dinner demos that include lessons on wine pairings.
From leading tours through the Canadian wilderness to owning his own business, Kaston has always been a teacher. It's the reason why he started open-house cooking classes for the staff on days when Bistro 185 is closed.
"I leave it up to my staff whether they want to come in or not," he says. "If they show up, they get to pick something they want to learn and I'll spend as much time as we need on it. My biggest thing is that if you want to learn, I'll be there to teach you." In his new position, Kaston is transitioning the Bistro away from traditional daily specials to short-run seasonal menus while still honoring the restaurant's roots.
"I wanted to get back to something small and personal," he says. "I've worked places where at the end of the day you don't get to meet your customers and have that interaction. Right now is an opportunity for Collinwood and E. 185th to either rise or fall. And we're going to make it rise."
---
20 restaurants that are 'Cleveland Classics':
2015 A-List Dining Guide
The Plain Dealer
Friday, May 7, 2015 | By Joe Crea
Keeping the list of restaurants proclaimed "Cleveland Classics" to just 20 honorees is a serious challenge. The number of Northeast Ohio restaurants worthy of such recognition seems to grow each year. And while it seems like restaurants are forever opening and closing, it's true what they say about cream rising to the top. The finest eateries become perennial favorites, and draw a sufficiently consistent a crowd that their doors remain open - year after year.

That's exemplary of the spirit of "Cleveland Classics" recognition. At the award's inception, the team of editors, reporters and freelance critics who weigh-in on compiling the final the 100 A List honorees decided that the 20 or so businesses named "Classics" must have weathered the test of time. Each would be an independently owned and/or locally based food-service establishment that has been in operation for at least five years.

What's more, "each is exemplary for its food, service, atmosphere and other elements of a top-shelf food-service establishment," the group agreed.

Next year may see an increase in the number of recognitions, a provision we made when the Awards were first announced in 2014. But the 20 on this year's list are well deserved winners.
Cleveland's Top Restaurants 2015:
Northeast Ohio's A-List Dining Guide
The Plain Dealer
Friday, May 8, 2015 | By Joe Crea
New American pub grub in North Collinwood gets elevated with globally infused dinner fare. The dinner menu changes daily at Bistro 185, making mealtimes the kind of adventure every diner deserves. Rarely does a neighborhood joint produce the kind of imaginative and high-quality food that Bistro 185 offers -- and every neighborhood deserves a joint like it. Ruth and Marc Levine's spot, in North Collinwood on Cleveland's East Side, is a star. The food is familiar, the atmosphere is cozy, the service is swift and friendly -- and the prices won't break the bank. The lunch menu typically carries a daily special (when offered, the Friday fish fry gets raves from the regulars), plus entrees, salads and asandwich list that isbuilt mostly around well-prepared bar staples such as burgers, chicken and tuna melts.
Come evening, the kitchen raises the stakes. Chef Levine's menu is accented by global flavors. Appetizers range from a classic romaine wedge salad with chopped egg and -- yes! -- bacon, to escargot, excellent gravlax cured in the bistro's kitchen, house-smoked duck breast and shrimp and vegetable pot stickers. Entrees include seafood selections, variations on chicken preparations and other dishes familiar to the American palate, featuring proteins such as pork tenderloin, lamb shank and medallions of beef.
By the time dessert rolls around, you've stopped caring about cholesterol. Choose from the delicacies in the pastry case, made off premises by a superb home cook.
Bistro 185 named to Cleveland's A-List 6 years in a row!

Top 20 Cleveland Classics: 2015
A-List Restaurants 2015
A-List Restaurants 2014
A-List Restaurants 2013
A-List Restaurants 2012
A-List Restaurants 2011
A-List Restaurants 2010
---
On the Road with Rizzo: Bistro 185
Fox 8 | February 15, 2015 | By John Ackerman


---
TV20 Summer In The City Segment – Bistro 185
TV20 | July 16, 2014
Segment Producer/Host: Leah Haslage | Videographer/Editor: Patrick Longbrake Jr.


---
Chef Ruth Makes Matzo Ball Soup on Fox 8
Fox 8 | Passover 2014
---
Breakfast Around the World
Edible Cleveland
Spring 2014 | By Maria Isabella, Photos by Laura Watilo Blake
Guess who is featured in the new Spring 2014 Edible Cleveland? Grab a copy and get Ruth's breakfast recipe for Shakshuka!
---
Listen to Ruth Levine on WKSU

Vivian Goodman interviewed Ruth Levine about cooking with memories, like the Levine family did for Thanksgivikkah. Ruth remembers and cooks with recipes handed down by her European / Polish mother. Read all about it and listen to it here.
Kreplach, barley soup and more in the kitchen with Ruth Levine
Food memories of Cleveland's Holocaust survivor community
January 17, 2014 | By WKSU's VIVIAN GOODMAN
Wednesday night, in an old-world neighborhood of Cleveland, it'll be like riding a time-machine back to the 1950s. Specifically, to the dining rooms of those who fled Eastern Europe after World War II to start new lives in Cleveland. For the retro dinner Chef Ruth Levine of Bistro 185 is planning, she raided her own rich memory banks.

And for today's Quick Bite, she called WKSU's Vivian Goodman over to the stove to watch her bring back the tastes and aromas of her childhood.

Ruth Levine serves a piping hot bowl of krupnik, a Polish soup her mother used to make. "My dad loved soup, so we had some kind of soup almost every day." Krupnik was one of her favorites growing up, and its welcoming aroma now fills Levine's Pepper Pike kitchen. She starts by softening the meat, boiling it in a little water. It's flanken, a slab of short rib popular in Jewish cooking. "And it has a little barley, little chunks of meat, potato, a little bit of split pea, carrot and celery. And just season to taste, salt and pepper and fresh dill to finish. Great on a snowy day. That's what we had. We had a version of that very often, sometimes made with beef and sometimes made with chicken."

Narrow escape
Levine was 3 when her family emigrated to Cleveland. They were Polish Jews who used forged papers to escape the Nazis. "They were in the Holocaust," says Levine, "but not in the concentration camps."

When the war ended, her father opened a tailor shop in Cleveland's Old Arcade and the family moved to the Kinsman area, "which was the heart of the Jewish neighborhood in the early '50s. I remember going to the chicken guy as a little kid and my mother would pick out a chicken and she'd pluck it and clean it back in the apartment on 149th. And she's sit me down with a bowl of chicken feet to eat, and I thought it was delicious."

First teacher was the best
Levine grew up to be an accomplished caterer and restaurateur. She studied with a French chef and a Chinese chef, but it's her first teacher she credits most. "My mom. I spent a lot of time sitting in the kitchen watching her, not cooking, but watching." Her mother had two sisters. "When they all got together, everyone cooked. I remember so distinctly in my mother's house all of them all cooked alike. If you would close your eyes, you'd think it was my Aunt Mary cooking, or my Aunt Frances cooking or my mother cooking." Levine's mother was a perfectionist, especially when it came to chicken soup. It was never allowed to boil. "Only little tiny bubbles, and if you went near that soup with a spoon you'd be yelled at. 'Don't touch my soup until it's done! Don't stir the soup!'"

A tight-knit community
Food was very important in her home and in the social life of the neighborhood. "We went to the park every Sunday because all their friends all met at the park, Forest Hills Park in Cleveland. Every European family went. There were picnics and everybody played cards and you were there all day. It was a very tight community. That was their extended family. So they found an apartment on 149th and Kinsman. And interestingly enough, that was a four-suiter and all four suites were occupied by families from the Holocaust."

Her mother loved to cook for her social club. "The club was all Holocaust survivors, and they would play cards and drink, and smoke, and eat, and talk, and stay up. And so I remember all those -- cooking and having a busy house."

Time-consuming but satisfying work
Busy, and redolent of savory dishes, like kreplach and onions, the Jewish version of pierogi, "which I realized how labor-intensive they are," says Levine as she vigorously attacks the dough with her mother's rolling pin.

She still has her mother's candlesticks, too, and her silverware, and even wooden spools of silk thread from her father's tailor shop.

"You just want it (the dough) to get as thin as you can." Once it's rolled out she cuts it into 2-inch squares and takes a big bowl out of the fridge. "This is the meat filling right here: chicken and beef and a little bit of liver, and lots of sautéed onion go in here, and salt and pepper. And that's really about it, and seasoned to taste. And then, you're just going to take the square and make it into a triangle. You pinch the edges with a little egg wash. It's almost like making Chinese dimsum. So it's like Jewish dimsum."

The little dumplings are browning in olive oil as Levine adds onions to the pan. "I had browned the onions a little earlier, " she says, "and you want to get a little caramelization on there. Of course my mother never used the word 'caramelization'. She would say, 'Get them nice and brown!' "

Vegetarian kreplach
Kreplach can be meatless, too. "Depending on the season my mother used to make them filled with cottage cheese or blueberries, and those were served boiled with sour cream."

Kreplach was often a side dish at Friday night family dinners, or the dumplings were boiled and dropped into chicken soup. "And you'd get maybe three kreplach if you were lucky."

Sharing food and memories
Delicious memories are shared when Levine gets together with others like her who fled the holocaust as children.

"What your mothers made, how they made it. If your mother was Hungarian, they'd say, 'Oh, your mother was a great baker,' because Hungarians were known for baking and making strudels." Likewise, Polish food was often sweet and savory together. And if they were from Russia that was a totally different kind of cuisine."

These confabs often occur at Levine's Cleveland restaurant, Bistro 185.

"I actually have a friend who was a hidden child during the war, and they come in with their friends who are all Holocaust survivors. But they were very young during the war. And I usually go over to the table and they'll say to me, 'What should I have today?' And it's kind of like sitting with my family, talking, and they'll say, 'I want my steak well done.' I go, 'No, you're not going to get your steak well done. I'll give it to you medium."

Levine remembers losing arguments with her mother about what they should eat. As a child, she wanted what her school friends got but her mother didn't cook that way.

Jewish cookery was mother's best
"Our version of spaghetti was spaghetti noodles with Hunt's tomato sauce. That was it. There was no garlic or onion or wine. Polish spaghetti."

It's hard to admit, but she used to be embarrassed by her parents. "As a kid you just want to fit in, and we were so different. I had a very Polish last name which nobody could pronounce. As a kid, growing up you wanted to be American, and you didn't want to have parents with accents. So as you get older you realize what a mistake that was."

And she realizes how much she learned just sitting at the kitchen table, watching.

Levine had a catering business for more than 20 years before opening Bistro 185 about eight years ago, and her mother would no doubt be proud. "She would always say as she got older that she was surprised at how good a cook I turned out to be. She really enjoyed coming here for dinner. She would say, 'I give it all to you now.'"

Levine's giving a glimpse of the '50s Wednesday at her restaurant with a five-course retro dinner including nostalgic favorites like Waldorf salad, Swedish meatballs and seafood Newburg.
---
Bistro 185 Chef-Owner Ruth Levine Melds Thanksgiving, Hanukkah Dinners for a Truly Memorable Feast
The Plain Dealer / Cleveland.com
November 12, 2013 | By Joe Crea, Northeast Ohio Media Group p
Ruth Levine pauses near the table, set for the combined holidays of Thanksgiving and Hanukkah, in the Pepper Pike home she shares with her husband, Marc Levine. Her feast for the combined Thanksgiving-Hanukkah dinner includes elements perfect for both occasions: Turkey breast stuffed with a challah dressing; Yukon Gold-and-Sweet Potato Latkes; fresh cranberry sauce; steamed asparagus; a delectable noodle kugel laced with pureed pumpkin and studded with pineapple; and an apple-pumpkin strudel topped with pecan whipped cream. Photo by Chuck Crow, The Plain Dealer
Forget "once in a blue moon." If you want an example of something truly unusual, consider the rarer than rare confluence of Thanksgiving and Hanukkah. Try... once in roughly 77,000 years.
It's definitely an unusual collision. The dates for both holidays vary from year to year, with Thanksgiving occurring on the fourth Thursday of November and the first night of Hanukkah dictated by the Hebrew calendar. (Depending upon your source, the next such occurrence could fall as soon as the year 2070 -- or, more likely, in about 79,000 years. You're welcome to do your own interpretation.)
And this year, 2013, is that random year when American Jews will celebrate perhaps the greatest holiday mashups of all times. Yielding... wait for it... Thanksgivikkah!
If you're Jewish, or just really good food, it's the best holiday ever.
Ruth Levine kind of thinks so. As chef-owner of Bistro 185 in Cleveland, at first Levine found herself a bit flummoxed by the challenge of tackling the two major holidays for her own family.
"We were at the restaurant, my manager and I, and we were scheduling a wine dinner," Levine recalls. "And all of a sudden my manager and I were going over the calendar and then we looked at each other and said "Ohhh… Hanukkah and Thanksgiving are on the same night! That could be a problem."
Obviously, both are very important nights to many people. Especially for a restaurateur who happens to be the mother of three and family matriarch.
"I tend to think in restaurant terms, as well as a parent" Levine says. "I want to schedule so that things are convenient for our customers, and at the same time I want the holiday to be special for my family. So when my friends are going 'Wow, did you realize? This will never happen again in how long?' that's when I started reading up."
She started out by looking for the common denominators among the two holidays.
"I was thinking 'what are the three or four things you use at Thanksgiving and Hanukkah?' Obviously there's the turkey, some form of turkey -- that's nice for both holidays. And then the sweet potatoes, they can go into lots of things, and the pumpkin and the cranberries. To me, those are things you have to have at Thanksgiving.
"Then when you think of Hanukkah, you have to have something fried. In my house they're always potato latkes. And then you have to have something for the people who don't eat turkey, so a nice brisket would be good. And the applesauce is always popular, and the sour cream for those who don't keep kosher..."
Quickly, a feast well worthy of the combined holidays began to take shape. Most important, she adds, was maintaining the precious traditions of both days.
Levine was born to Holocaust survivors Helen and Sam Zieleniec. The family came to the U.S. in 1954 and though they gradually adopted more and more American ways, their community maintained long-held traditions.
The menorahs the family lights during the Hanukkah holidays are a mish-mosh collection of ones they kids made at Hebrew school, at camp, and others they've gathered. That's in keeping with the overall eclectic art and happily lived-in, mid-century Pepper Pike home Levine shares with her husband, Marc.
"My table and my home is not a show," she says. "It's a family," she says And theirs is a life built around work, faith, and the strongest binding of love.
"So I like to be really traditional with the holidays -- and everyone has their memories," Levine says. "For me it's time to go back and remember what my mother would be doing."
"Everything, of course, had to be made fresh that day. Mom didn't believe in freezing and make-aheads – so it was a very early morning of cooking.The soup would be on, simmering, and the roast would be in the oven. Coming from a European background, Thanksgiving was an America thing. Pumpkin pie was not in her vocabulary. Now, suddenly, she has Americanized children and WE wanted Thanksgiving. Forget the brisket; you have to make a turkey."
Of course the cranberry sauce was out of a can, Levine recalls, but the rest of those old merged occasions reflected traditional Jewish cuisine: kreplach or matzo balls in the soup, and the yeast-risen donuts that are today called ponczki).
"As I got older and had a family, I took over most of holidays. And mom would say 'Ah, this cranberry sauce, it tastes good – it's not from a can, is it?" Not in Ruth Levine's kitchen. Those years of cooking for a growing brood and extended family -- including sons Ari (he turns 35 on Thanksgiviikkah Eve) and his wife, Ursula, and their two daughters; Zachary (30), and Gabriel (25) -- gradually broadened Levine's ability to cook for a crowd.
"People complain about cooking. I love it," she says. "I like to see the transition from a raw to a cooked product. I like to see the empty cans and the wrappers, I like cleaning the turkey – it's just instant gratification for me. You take it from the raw state, and you're pushing the stuffing under the turkey's skin and it gets bigger and bigger as you stuff it, that fascinates me.
"The only part I hate about the holidays is cleaning up!" she declares. "If we have pots and pans that have to be soaked over night, well, you put them in the oven and leave them. There's nothing worse than cooking all day and then having to tackle a mountain of pots and pans."
Levine pauses for a moment and starts to chuckle. "Of course and then you forget them. So when you preheat the oven a few days later, you're thinking 'what's that smell?'..."
---
Sunnier Sundays
Cleveland Magazine
November 13, 2013 | By Laura Taxelp
Eggs taste better when somebody else makes them. That's a fact. Not having to do the work seems to add a little something extra. It surely explains why going out for brunch is so appealing. And the local choices for that decadent and self-indulgent meal have just gotten better by one. As of this week Bistro 185 will begin serving chicken and waffles, crab Benedict, frittatas and all sorts of other morning to midday fare on Sundays from 10 a.m.-3 p.m.
My first thought, when I heard about this, like everybody who knows this incredibly hardworking couple, wondered why the restaurants owners Ruth and Mark Levine would put something else on their already full plates. I considered that they might be in the grip of serious lapse of sanity and wondered if a friendly intervention was needed. But once Ruth explained the backstory, it all made perfect sense.
The push to do this came from a new and in her words, "extremely capable, creative and organized" team in the kitchen headed by Julie Branstein, who started there while still in high school and then left to earn a culinary degree, and recent hire Miguel Chevres. "They wanted to do it and I am confident they can pull it off," she told me. Better yet, Ruth, who normally dresses in chef whites, can wear nice clothes and hang out in the dining room, something she only occasionally has time to do schmoozing with customers.
The husband and I were guests for a first dry run and tasting last Sunday. One look at the menu and I was in trouble: this isn't the usual selection of pancakes and French toast. I wanted everything, except the Pain Perdu, croissant bread pudding, because it came with bananas (among the only foods I can't abide). There was a Croque Madame on brioche with Gruyere, eggs sunny-side up and applewood smoked ham from Nueske's; corn pudding and potato pancakes. Exercising a modicum of self control, we went with three dishes for sharing. He chose scrambled eggs (local and organic) with duck confit and sauteed onions. I selected the hash which featured house-made corn beef, potatoes and peppers. Both were outstanding. And then there were the cheese blintzes, light, golden, pillowy and worthy of the official babushka seal of approval.
The extra touches here push everything way beyond the ordinary. The blintzes come with luscious Abby's Orchard fruit preserves, made in town from local fruit by Lisa Battista. Cheese curds for the Montreal-inspired poutine are produced in-house. Mark's in charge of smoking the salmon for the gravlax platter and the pork loin that's served with the Benedicts (there are two versions). He has plans to try his hand at making cream cheese, too.
Combine good food with a classy start to the day with drinks including Bellinis, mimosas and passion fruit sour, and you have the ingredients for a exceptionally fine day of rest. Post-brunch naps recommended, but not required.
---
Tried, True and Terrific
Cleveland Magazine
May 8, 2013 | By Laura Taxel

The husband and I had a date to have dinner with a friend last Saturday night. We decided to eat at Bistro 185 in the up-and-coming Collinwood area. We've been regulars since it opened in 2006 and, like many of their customers, have a friendly relationship with owners Marc and Ruth Levine. We love talking curing and smoking with Marc, and I appreciate his savvy (and recommendations) when it comes to wine and beer. Ruth is a culinary powerhouse and someone I admire. She's knowledgeable, skilled and imaginative when it comes to cooking but without ego or pretension, (always giving credit to her crack kitchen team, especially chef Todd Mueller), and she seems to possess the energy and endurance of two.

This small restaurant is among the select group of places we choose to go when I'm not on the job. We were talking about this recently, dissecting what we like about it. First there's the look and feel: tavern casual, cozy, and unpretentious with some charming retro touches in the decor like roomy wooden booths with game boards integrated into the table tops. The service is friendly, the prices affordable. The bar is well stocked with interesting stuff. Though some dishes show up often because they're popular, the menu changes daily so it never gets boring. And there are always ample choices: meat, poultry, fish, vegetarian — options from light to hearty. Ruth's not wedded to a single theme, a concept more defined by quality and deliciousness than style. Comfort food, Asian flavors, classic sauces, American contemporary, French technique — any of it might show up on a given night.

But most of all, the husband and I agreed that we'd never, not ever, had a bad meal there. Sure, we've liked some dishes more than others, however neither of us have ever felt the need to send back a plate or complain. The dishes coming out of this kitchen are consistently well executed and invariably tasty. The leftovers, — and there are usually take home bags, both because the portions are sizable and we can't resist her appetizers and salads — are never tossed and always a source of enjoyment. We keep coming here, and bring family, friends and out-of-towners because we can depend on having a fine night out. And Saturday was no exception. The entree selection included steak oscar, veal scaloppini, chicken schnitzel, boeuf bourguignon, panko-and-almond crusted cod, lobster ravioli, 1/2 a duck roasted in orange ginger sauce ...

We had a luscious bacon and goat cheese flatbread featuring spinach, mounds of caramelized onions, Parmesan and balsamic glaze. The warm wild mushroom salad with field greens and raspberry vinaigrette was excellent as usual. The husband went with Coquille St. Jacques (a starter big enough for a main), a bubbling crock of scallops and shrimp in an alfredo cream with parmesan crust. Our friend chose the house-cured gravlax on potato pancakes, one of our favorites. The high point of my evening was the Mediterranean seafood nicoise, a truly outstanding bouillabaisse. The bronzini tomato broth was thick with shrimp, mussels, salmon, cod, and cobia; three kinds of olives; fennel, leeks, onions, capers and chunks of carrot; and white and purple fingerling potatoes. Crunchy slices of toasted baguette slathered with garlic aioli were great for dipping.

If I have not yet succeeded in motivating you to visit the restaurant, then let me add another incentive. There are monthly dinners for wine aficionados and vegans (or anyone who wants to explore this approach). The next wine dinner dubbed "Off the Beaten Path" happens May 22. A three-course, prix-fixe Vegan Tex Mex is scheduled for May 23. Reservations are required for both. See full post...
---
Watch Ruth Make Mango Shrimp & Coconut Rice
Fox 8, May 2013


---
Culinary Fusion Accents Bistro 185's Cuisine
Cleveland Jewish News
Friday, February 1, 2013 | By Matt DeFaveri

One would be hard-pressed to see the same menu any day of the week at Bistro 185 in Cleveland's Collinwood neighborhood. That's because the restaurant changes its menus every day. "If we're not changing an entire dish maybe we're changing a side," said Ruth Levine, owner and executive chef. "It's really based on what's fresh in the market."

Levine, who was born in Munich and moved to Cleveland Heights at age 4, opened Bistro 185 seven years ago. She's fused her Polish and Eastern European background with her Asian and French culinary training into a palatable symphony.

The farm-to-table philosophy dominates Bistro 185's cuisine, with herbs and vegetables coming straight from the restaurant's rooftop garden. "It doesn't get much more local than what we're doing," said Levine, a Pepper Pike resident and Park Synagogue congregant. "It's fun to see our bartenders pick the mint and the basil for martinis. We go upstairs and pick the tomatoes; we can't wait for those. To me, it's amazing that we can really produce that much in the restaurant."

While buying local ingredients in the winter can be difficult, Levine still manages to plan mouthwatering menus for monthly events like February's chocolate and wine dinner, which is at 6:30 p.m., Tuesday, Feb. 12.

"We usually do it before Valentine's Day so it gives people who maybe want to avoid the Valentine's Day rush time to have a really interesting dinner," Levine said. "We're doing six courses this year and each course has an element of chocolate in it."

Highlights for the third annual chocolate and wine dinner include American Kobe beef with black truffle and a chocolate drizzle, scallops with Nutella sauce coated in hazelnuts and a seafood dish with a white chocolate saffron pappardelle pasta. Diners get six courses, six wines, an amuse bouche and aperitif for $100 per person.

"We've always sold out of this event," Levine said. "Initially I think people wonder, 'How can you pair chocolate with seafood or beef?' You have to think really creatively about what you're doing and then compliment the dishes."

Occasionally Levine's customers get ultra-romantic. "We've had people get engaged here," she said. "We all get so nervous because what if the girl says no?" Thankfully, that hasn't happened yet, Levine said.

Levine spends so much time wining and dining her customers that sometimes she has to escape to her own perfect date spot. Her ideal romantic dinner would be someplace warm – maybe Mexico, she said. "Just having a really, lovely, nice dinner close to the beach or open air," she said. "I love eating al fresco."
Read full article...
---
Bistro 185... among restaurants catering to gluten-free diners, vegans
The News Herald
Wednesday, December 12, 2012 | By Janet Podolak

Vegan and gluten-free diners have a lot to celebrate this year as more and more restaurants, markets and product makers are embracing the ways they eat.

"When I became a vegan 22 years ago, I could rarely eat out," said Joyce Wagner of Euclid. "Now there's almost always something for me on restaurant menus — even when I travel in Europe. And one place — Bistro 185 (in Cleveland) — even has a monthly vegan dinner. I bring my non vegan friends with me, and they often discover they like the food."

Dietary vegans eliminate all animal products from their diets, including dairy products, eggs and, in some cases, even honey.

Bistro 185 Chef Ruth Levine, who prepares the monthly vegan menu with vegan chef Jakub Mejstrik, said the meal is invariably a sell-out, even though it got a slow start. "I think it is a three-pronged thing," she said. "There are more vegans, there are a lot of people who want to explore the vegan lifestyle, and the word about our dinners has gotten out."

As a professional chef, she enjoys the challenges of adapting favorite menu items for vegans, such as the vegan jambalaya the restaurant will serve for its vegan dinner on Dec. 19. "We'll use a vegan sausage instead of andouille, add extra firm tofu for structure, and serve it over Basmati rice." Levine believes it's up to the diner to communicate food preferences and food allergies to the server, and, preferably, to call in advance to alert the kitchen.

"When serving gluten-free meals for people with celiac disease, for instance, even the cutting boards and knives must be kept separate," she said. "They can't have the least little bit of gluten. But for those who are exploring a gluten-free lifestyle, it's not quite as critical."
Read full article...
---
Watch Ruth Kickin' it with Kenny Crompton : Witch's Brew Halloween Dinner
---
Farm to Table Vegan Dinner a hit with this blogger!
Vegan Appetite
August 18, 2011 | By Vegan Appetite

This vegan blogger came into Cleveland to experience Bistro 185's Vegan night, and went away a fan ineed! Read Blog (complete with photos of each course)
---
Child's Play
Cleveland Magazine
September 16, 2009 | By Laura Taxel

I finally went to see Julie and Julia, Nora Ephron's movie about renowned cooking personality and cookbook author Julia Child, played superbly by Meryl Streep, and the young woman who found purpose- as well as book and movie deals- by following her recipes and blogging about the experience. It was entertaining, though personally I wouldn't have minded if all the scenes that didn't focus on Child, her life, and her boundless appetites ended up on the cutting room floor.
I walked out of the theater inspired not to hurry home and whip up a souffle, but rather moved to visit to Bistro 185. The release of the movie prompted owners Ruth and Marc Levine to launch The Julia Child Project. Every evening until the end of September Ruth, who does much of the cooking for the East 185th Street restaurant and Todd Mueller, her accomplished co-chef, pick a week's worth of dishes together based on Julia Child's recipes, serving something different each night (prices vary). They'e been doing it since August. Selections along with commentary are posted on the Bistro's blog.
Although the film focused on her love affair with French food, Julia went on to explore other cultures and cuisines, showing home cooks how to adpat them to their own kitchens in her PBS series Cooking with Master Chefs. That explains the southwestern styled dish I had there last Thursday- sea scallops on a risotto with green sauce. It was superb. The scallops had a nice sear on the outside with a metlingly soft interior. The creamy rice had a full of orchestra of flavors and textures: spiciness (jalapenos), earthy (mushrooms), tanginess (tomatillo sauce), sweetness plus color (corn salsa), and crunch (toasted corn "nuts"). My guy went with beef bourguignon- it was on the regular menu, not a Project dish and wasn't made Julia's way. But that entree had figured significantly in the movie and he welcomed the opportunity to say "boeuf" out loud.
We brought in our ticket stub from a screening of Julie and Julia: it got us a free dessert (note: that's one per table not per person). We shared a piece of layer cake Mueller had made with almond meal, raspberry lemon curd, butter cream frosting, and whipped cream. The fat slice came with a crunchy little fan of nougatine (a sort of thin cookie fashioned of almonds and caramel).
The great lady who typically ended her TV shows wishing the audience Bon Apetit would have purred with pleasure over this meal. I certainly did.
---
Inspired by a Child
The News Herald
August 12, 2009 | By Janet Podolak

As a lifelong fan of Julia Child, Ruth Levine says she thinks it's natural to serve dishes from the famous cook's books at Bistro 185, which she operates with her husband, Marc, at 991 E. 185th St.
Their Julia Project, on during dinners for the next seven weeks at the restaurant, coincides with the just-released film "Julie & Julia," about a woman who cooked her way through Child's 1961 "Mastering the Art of French Cooking, Volume One" and blogged about the experience.
The Levines also will be blogging about the preparation of the various recipes in the Julia Child cookbooks. Follow their efforts at bistro185blog.wordpress.com.
Ruth Levine, who began her long cooking career as a caterer, has been a lifelong devotee of Child's recipes and techniques.
She actually met Child, who died in 2004, at a 1978 book signing in Cleveland. "I was pregnant with my first son and standing in line with everyone else, when Julia's husband, Paul, spotted me," she recalled. Noting that Levine appeared as if she was about to give birth right there, Paul Child escorted her to the front of the line and stopped right beside Julia. "I was stunned," Levine said. "We exchanged a few words, and she was delightful — but I don't even know what we talked about." Both Childs autographed the cookbook she'd purchased. Levine's son, Ari, who will be 31 in November, was born a week later. "He's a fine cook, himself," she noted.
The Levines now live in Pepper Pike, less than 20 minutes from their restaurant just off the freeway in Cleveland's East 185th Street neighborhood, but they reared their three sons while living in the Bainbridge Township community of Lake Lucerne.
On each night's menu, the Julia Project dish includes a notation about which of her books it's from and the page number. "We want diners to be able to buy the book and make the dish themselves if they have the interest," Levine said.
They're giving diners a free dessert when they bring a ticket stub from the "Julie & Julia" film or a receipt for purchase of the book from which it is based.
Tonight's dish, for instance, is Saute de Veau Marengo from "Mastering the Art of French Cooking," Page 360. In English it's a brown veal stew with tomatoes and mushrooms and will be served with mashed potatoes. Their blog gives readers more details about the recipe, such as the adaptations made by the restaurant. The Boeuf Bourguignon, for instance, calls for 24 peeled small onions, Levine said.
"My prep people would be like maniacs if they had to peel hundreds of little onions to make the dish," she observed. "We use frozen pearl onions, which weren't available when Julia wrote the cookbook in 1961."
The Boeuf Bourguignon — a beef stew in red wine with bacon, onions and mushrooms — is a regular offering on the Bistro 185 menu. "We sold out of it when we served it as the Julia Project dish," she said. "We usually serve five or six portions, but that night we served 15 orders of it."
In the original Julia Child recipe from "Mastering the Art of French Cooking, Volume One" Child uses a mirepoix — a mixture of diced carrots, onions, celery and herbs sauteed in butter — to deepen the flavors of the dish. "Instead of just incorporating the mirepoix in the sauce, in our recipe we use the chunks of vegetables," Levine said. "The vegetables add to the dish's flavor and eye appeal, and our customers enjoy them."
Another variation employed in the Boeuf Bourguignon served at Bistro 185 is the use of boneless short ribs for the beef, instead of the stewing beef detailed in Child's original recipe.
The restaurant's chef, Todd Mueller, who counts a program at the famous Ecole Lenotre Culinary School in Paris as part of his training in traditional French cooking, participates in the execution of dishes as well as the menu planning for the Julia Project with the Levines. Each Sunday — the only day Bistro 185 is closed — the three sit down together to plan the menus for the coming week
"I have all of Julia Child's cookbooks, and we are drawing from many of them," Levine said. The Child cookbooks, including the one autographed for Levine by both Julia and her husband back in 1978, are among the most used in her collection of 800 cookbooks.
Like many other good cooks, Levine does not believe in following recipes blindly but in using them as a guideline and for inspiration.
"We also strongly believe in making our food accessible to everyone," she said. "Our prices are affordable enough to have a good dinner, a glass of wine and dessert without breaking the bank."
The couple's "from-scratch" philosophy includes smoking their own briskets and duck breasts, roasting whole turkey breasts for slicing into sandwiches and harvesting fresh vegetables from their own rooftop garden.
The 80-seat restaurant includes 60 places in the dining room and 20 in the bar. "We have mostly soups, salads and sandwiches for lunch and completely switch gears at dinner," Levine said.
---
Julie & Julia & Ruth & Marc...
The Plain Dealer
August 4, 2009 | By Joe Crea

Here's some smart marketing. Bistro 185 restaurateurs Ruth and Marc Levine are piggybacking a special dining room promotion with Friday's opening of the Columbia Pictures film "Julie and Julia." The Levines have committed to serving a nightly special, based on recipes published in author Julia Child's popular cookbooks. They'll offer a different dish each day for the next eight weeks -- and post a daily blog of the experience.

Call it an homage to author Julie Powell, whose own online "Julie/Julia Project" entailed cooking her way through "Mastering the Art of French Cooking Vol. 1" and led to a book that inspired the movie.

Thus far, the Levines' installments are considerably less revealing than Powell's confessional-style chronicle. At the moment, they consist chiefly of a summation of each day's triumphant treatment of Child/French classics like Potage Parmentier, a rich, herb-laced potato soup, and a forecast of the next day's dish (Tuesdaynight: Fricassee de Poulet + L'Ancienne, also known as Chicken Fricassee with Wine-Flavored Cream Sauce, Onions and Mushrooms). But who knows? One reader's advertisement might be another's inspiration -- and foodies like me will be curious to read more about the technical tweaks the chefs employ to streamline the classics while maintaining their integrity.
---
Bistro 185
Metromix
August, 2008

Not only do you eat fresh vegetables at Bistro 185, you can also watch them grow from owner Ruth Levine's herb and tomato rooftop garden. The Bistro on the beautiful tree-lined street takes pride in using locally farmed produce. Bistro 185's menu spans the globe and changes on a daily basis. Classic wines and trendy martinis can be enjoyed on the patio next to historic E.185th Street.
---
Fresh Bytes
Fresh Fork
August 4, 2008
By Andrea McGovern
Buying local has gone virtual thanks to the creators of Fresh Fork Market, who connect farmers with restaurants, saving them time and money. Of course, everyone is eating up the idea of fresher, faster food.
Chef Ruth Levine bases her weekly menu at Bistro 185 on fresh, local products. But as Levine and her husband, Marc, stock their shelves with local produce, they constantly run into a problem: How do you keep the vegetables from wilting before the week is out?
The Levines are not the only area restaurateurs who play this game of organic roulette — scouring markets and roadside stands for fresh produce, never sure what will be available, wasting man hours and gas.
"The missing piece of the puzzle was always the logistics of getting produce from the farmers to the restaurant," Marc says.
But that link has been found. Enter Fresh Fork Market, a group of Case Western Reserve University graduates and students who serve as market middlemen. Through its Web site, freshforkmarket.com, the company orchestrates the delivery of local farm products directly to area restaurants, much to the delight of Northeast Ohio farmers and chefs.
Managing partners and foodies Trevor Clatterbuck and Bob Gavlak were equally frustrated by the limited amount of fresh offerings available at local restaurants. The Fresh Fork founders discovered many dining spots routinely ran out of the evening's specials before the end of the night. It made the Case students wonder why chefs were ordering less of their featured ingredients than they could sell.
So they polled local restaurants and discovered a common problem: Locally grown, seasonal foods were hard to get. While a few chefs had set up relationships with growers, it was a time-consuming endeavor.
They visited farmers markets and heard the same story: Farmers wanted to sell more produce in the local restaurant market, but didn't have time for marketing, Clatterbuck recalls. On the other hand, wholesale distributors and auctions were not attractive for farmers either, because the price, driven by large California growers, was too low. "When we asked if they would be interested in a way all of their products could be sold farmers-market style, we got a big 'yes,' " Clatterbuck says.
Now, after almost a year of preparation and anticipation from the group that took first place in the 2007 Cleveland Entrepreneurship Immersion Week's business concept competition, Fresh Fork Market delivered its first farmer-to-restaurant produce in June — coinciding with the ripening of local strawberries, one of the first crops delivered.
Already Fresh Fork Market has a backlog of farms wanting to list their products, Clatterbuck says. "We can't pick up everywhere," he says, but adds that Fresh Fork Market is working as fast as it can to include more farms.
Since its early summer launch, Fresh Fork Market has attracted notable clients such as Molinari's in Mentor and the Cleveland Clinic.
"This is a much-needed niche being filled," says Bistro 185's Marc Levine, who has been involved with the firm's logistical planning and has helped introduce the team to other chefs.
Ruth Levine finds the online ordering system to be perfectly suited to her schedule as a chef. "We might do this at midnight," she says. "And we are not at the mercy of a distributor's business hours."
Being on the Web means Fresh Fork Market is open for business 24/7. The company offers a way for 40 small farms and co-ops within 75 miles of Cleveland to compete for the local market in a way beyond just the traditional farmers markets or stands.
Farmers set their own prices, beating traditional wholesale rates that can significantly cut into profits. For example, farmers who sell through Fresh Fork Market have received a minimum of $2.50 a quart for strawberries, when the wholesale rate set by California agribusiness was $1.60, according to Clatterbuck.
They're also able to offer more variety. "We have an Italian zucchini variety that most of our chefs have never even seen before," he says.
A semiweekly pickup and delivery schedule helps ensure fresh produce. And with farmer drop-off points near farm clusters in Geauga County, West Salem and Hartville, Fresh Fork Market is able to maximize fuel efficiency. To further save on cost and ensure sustainable transport, Fresh Fork uses nonrefrigerated vans equipped with biodegradable stacking coolers lined with specially made bags to keep produce fresh during transit.
"Our customers have come to see our product is 100 percent usable. It lasts longer on the shelf, tastes better and is healthier," says Clatterbuck, whose primary duties for Fresh Fork Market are restaurant marketing and sales.
In traditional distribution systems, 30 percent of the product shipped is usually lost to spoilage before it makes it to the table, Clatterbuck explains. But Fresh Fork Market guarantees all food is delivered within 24 hours of harvest.
Clatterbuck focuses on restaurateurs with an interest in buying local and in environmental responsibility. "For them this makes good business sense," he says. And by buying through Fresh Fork Market, chefs can keep track of what ingredients came from which farm. "If a farmer builds a great reputation, he will be able to get a premium price for his products. He is essentially branding his farm."
Deliveries are scheduled to continue year round, although the Ohio growing season officially ends in October with the last apple harvest. Organic meats and poultry, cheeses, maple syrup and artisan breads will be introduced at that time. Crops such as winter squash and produce that keeps well in coolers and root cellars will still be available.
Josh Hartranft, executive chef at Lago in Tremont, jumped on the Fresh Fork produce wagon from the outset and has been pleased. "One of the luxuries of buying local is getting the product the next day or the same day as it was picked," he says. "Instead of wasting a lot of the shelf life in a warehouse, we get that week of perfect ripeness in the restaurant. Distributors ship product in a semiripe state. By the time we get it, it might be overripe or it rots."
Before using Fresh Fork Market, Lago's chefs, like so many others in Northeast Ohio, relied on farmers markets and the West Side Market for produce.
"This is an incredible product, honestly," he says. "With today's economic pressures, there's no reason to spend a lot of money shipping back and forth from California when I can buy locally and have product readily available."
---
Several 'Cheers' for magnificent Bistro 185
The News Herald
January 5, 2007
By Sydney Wade
East Side neighborhood spot makes you feel at home, dazzles your taste buds
Ratings (of five): Food: 4-1/2 • Atmosphere: 5 • Service: 4
When my husband suggested dinner at Bistro 185, I was intrigued.
Bistro means a small bar / tavern or a small restaurant serving wine. Geared up for what I thought might be typical Wednesday-night neighborhood-tavern food, we headed toward East 185th Street.
In a word: Wow!
First, the ambiance reminded me of the TV show "Cheers." Bistro 185 clearly is "a place where everyone knows your name" – or, if they don't, they soon will. Friendly, relaxed neighborhood residents intermingled with those of us who drove a few miles to get there.
Add to that a great waitress named Carla (much younger and taller than the one from Cheers), plus fabulous food, and I knew how great a neighborhood bistro could be.
The menu describes the appeal of Bistro 185 as "Imaginative upscale bistro food in a congenial atmosphere," and that perfectly defines exactly the experience at the establishment.
The restaurant, which seats about 80, including the bar, is divided down the middle, with a solid cherry bar – complete with the rich patina of years gone by – and high top tables on one side, standard restaurant seating on the other. Candles on every table, a great mix of people and an atmosphere of "We're glad you're here" set the tone for the evening.
We felt lucky to be seated on the bar side. Seated at a high top, we found an imbedded checkerboard in our tabletop, so of course we asked Carla if they had checkers to use. She smiled and said, "No, because then no one would ever leave!"
Bistro 185 offers a wide selection of draft, bottled domestic and imported beers. Everything from Miller Light to Dortmunder Gold to Peroni is available.
Martinis are also on the menu – 13 of them. Looking around the room the night we were there, I could see a couple of basil-infused martinis (Kettle One, pineapple juice and a basil-infused syrup), one classic cosmopolitan (Skyy, cranberry juice, triple sec and lime) and a classic (vodka and dry vermouth).
With an extensive wine list, there is something for everyone in that area, too. The lists are dated, and the week we were there Bistro 185 offered 21 reds, priced between $6 and $10 a glass, although three selections were only available by the bottle. With 17 whites on the list, priced from $6 and $8 per glass (three by the bottle only), it was easy to find the perfect wine to complement the meal at hand.
We began our Bistro 185 adventure with cocktails. I had a glass of Toasted Head Chardonnay ($8), while my husband enjoyed an Old Granddad Manhattan ($8.50). Both met our expectations.
Owners Ruth and Marc Levine opened Bistro 185 in February in the old John Christie's Tavern space at 991 E. 185th St. Ruth mans the kitchen throughout the night, but is often seen walking through the restaurant. Marc sails in and out of the kitchen and the dining areas, making sure the guests are well taken care of, and lends a helping hand wherever needed.
The menu, printed daily, offered eight assorted starters and 18 different entrees.
Starters included the soup of the day (matzoh ball) at $4.50/bowl, gravlax with potato pancakes ($8.50), and a warm mushroom salad ($8.50). But when we asked Carla what her favorite was, she said the chicken pot stickers with sesame soy dipping sauce ($8.50). I ordered the pot stickers and was delighted when they arrived warm and properly prepared with a wonderful dipping sauce.
My husband ordered the Asian jumbo crab cakes (*.75) and kept telling me to taste them because they were among the best he has ever had. I took a forkful and found he was not exaggerating. A mango and peach salsa garnished with a rose-shaped pickled ginger ribbon was served with the crab cakes.
Deciding what to have for dinner was no easy task. Carla told us that at Bistro 185 they pride themselves on making just about everything from scratch.
So with 16 different entrees from which to choose, how to decide? Most expensive on the menu is the 12-ounce organic bison strip steak ($24.50), followed by the lobster ravioli with scallops and shrimp in a lobster cream sauce ($19.50). Other choices included roasted lamb shanks ($17.50), sauteed calves liver ($13.50), ricotta-stuffed eggplant ($14.50) and a Kobe beef burger with bacon and cheddar and sweet potato fries ($11.50).
I decided on the chicken schnitzel with potato pierogi ($13.50), while my husband enjoyed medallions of pork tenderloin and sweet potato mashers ($17.50).
The chicken dish arrived garnished with tempura asparagus and julienned sweet potato sticks. It was plated beautifully and was delicious. when ordering, I had asked Carla if the pierogi was good, she looked me squarely in the eye and asked, "Have you ever met a pierogi you didn't like?" Once again, she was right. The potato pierogis, complete with cooked onions and butter, were a wonderful accompaniment to the moist and tender chicken.
The pork dish arrived with a generous portion of pork, finished with a creamy horseradish and grainy mustard sauce. And then there were those sweet potato mashers, which were wonderful. And try as hard as we could, we could not clean our plates and asked for a container so we could enjoy the meal again at home.
You would think if one were too full to clean his or her plate that dessert would be out of the question. not so for us at Bistro 185! The dessert cooler was just over my shoulder and we kept eyeing its contents during our dinner. Choosing dessert was difficult, partially because they were all priced the same at $5.50, but also because of the selection: New York cheesecake with raspberry topping, cream cheese iced carrot cake, traditional apple pie, and a flourless almond raspberry chocolate torte. My husband had the last piece of Key lime pie, and I enjoyed the chocolate chip mocha cheesecake. The servings were huge, and we loved every bite.
But dinner at the bistro is only part of the story. My husband has enjoyed Bistro 185's ambiance and food at lunchtime many times because it is a short ride from downtown. Interesting to note the daytime chef is Ruth Helman of Ruthie and Moe's Diner fame. And yes, she brought with her the recipe for her special clam chowder (available only on Friday).
Daily lunch specials are priced from $9.50 and offer a wide delicious assortment of palate-pleasing dishes. Every Monday it is slow-roasted pork shanks with a spicy raspberry chipotle sauce and sweet potato fries. But if roast beef brisket makes your heart sing, be sure to be there on Wednesday when they serve it with mashers and gravy. Other daily specials are chicken paprikash and dumplings (Tuesday), turkey and mashers (Thursday) and a traditional fish fry with mac and cheese (Friday).
Sandwiches are also available for lunch. There are 19 different selections, all served with fries and slaw and priced from $6.50 to $9.50. Ten burgers are on the menu, all of which are half-pounders and made from fresh certified Angus beef. And just like the sandwiches, all burger come with fries and slaw. Completing this extensive lunch menu are seven chicken dishes and 10 other menu items, not including the soups that change daily.
Will we go to Bistro 185 again? In a heartbeat. The place made us feel like we were part of the neighborhood. It's a place, to borrow more from the "Cheers" theme, "Where they're always glad you came." Bistro 185 was a great experience.
And the next time we go, we ARE bringing our own checkers, because we never want to leave.
---
Into food? They've got your number at Bistro 185
The Sun Courier
January 3, 2007
Scoop du Jour by Barbara Collier
At the suggestion of several friends, I visited Bistro 185, just north of the Lakeland Freeway on Cleveland's East 185th Street. The newly christened Bistro went under the names of Uncle John's and John Christie's for the last nine years, but its prior claim to fame was as the popular neighborhood Fritz's. Under the ownership of Ruth and late husband Fritz Hribar, Fritz's was a friendly watering hole, as well as the place for Friday fish fries in northeastern Cleveland.
Now, Marc and Ruth Levine have taken over the restaurant, leaving the basic dark oak interior as is but completely changing the menu. "We pretty much cleaned it up, adding some pendant lights and a few funky posters," Ruth says, then laughingly adding, "but getting rid of all those terrible beer signs."
Ruth is no stranger to the food world. For more than 20 years, she ran her Ruth Levine Events as a catering enterprise. The Levines then owned Market House Grill before opening Bistro 185.
She said their goal is to offer good food at reasonable prices with great service. Some of Bistro 185 daily specials are favorites of former customers that were too popular to ignore.
At the end of each day, staff members gather to discuss what was successful and how to fine-tune what was served. "It's a team affair," Ruth Levine said. "We listen to each other in looking for ways to offer customers what they want."
The staff includes line chef Melvin Wiley, who cooks with Levine in evenings, Ruthie Helman, Levine's friend since high school. Helman was the hard-working owner of the tremendously popular Ruthie and Mo's Diner once on Prospect Avenue.
Delicious soups are made from scratch. The chunky beef barley ($2.50 cup) was thick as a stew, loaded with fork-tender beef and mushrooms.
One of the day's specials was a pair of slow roasted pork shanks, topped with spicy raspberry chipotle sauce ($9.50). The shanks were trimmed and so tender as to fall off the bone, their meaty flavor was enhanced by the delightful sauce. A side of great sweet potato fries accompanied made a perfect match.
The turkey Reuben ($9) was a bit meager compared to others around the city. The off-the-bone turkey slices were thick and tender, topped with cole slaw and sandwiched between grilled rye. It's served with crispy home fries.
The Bistro 185 Salad ($7.50) is a favorite and no wonder. A sizable amount of field greens is covered with candied pecans, sundried cranberries and crumbled blue cheese, then tossed with the house balsamic vinaigrette. Add grilled chicken for $2.50.
The kitchen turns out tuna salad similiar to what my grandmother used to make. Albacore tuna (unheard of in Grandma's day) is mixed with hard-cooked egg, red onion and mayo. Taste it in a tuna melt or their regular tuna salad sandwich with sprouts, Jack cheese, lettuce and tomato. All sandwiches come with house fries and coleslaw.
On the dinner menu, the seafood options are the favorite choices. Customers love the tender lobster ravioli ($19.50), served with seared day-boat plump scallops and shrimp, then finished with creamy lobster sauce.
Wild Canadian walleye fillets ($18) are sauteed with wild rice pilaf, then served with house tempura vegetables.
When the occasional ruby red trout ($18.50) finds its way onto the menu, it sells out quickly. The sweet, boneless trout is sauteed and served almondine-style, beside sweet potato mashers.
Besides the pork shanks, lamb shanks ($17.50) also are popular. They, too, are slow-roasted, seasoned with rosemary with fresh mint sauce. Homemade mashers and house tempura vegetables also come with the entree.
To the staff's surprise, the bison strip steak ($22.50) has caught on and very popular. A 12-ounce steak is grilled to your specification, then served with sauteed shiitake mushrooms, tempura asparagus and potato.
The price of the Kobe burger ($11.50) is a bargain compared to what's charged at other restaurants. The 8-ounce burger is served with bacon and Cheddar cheese, tomato and field greens. Sweet potato fries come on the side.
Always check out the daily specials. Most of their special comfort foods are found under that category.
Bistro 185 at 991 E. 185th, only a minute from the Interstate 90 exit. Reservations suggested on weekends by calling (216) 481-9635.
---
The Plain Dealer
Bistro's homemade comfort food exceptionally close to perfection
Friday, August 25, 2006
By Wilma Salisbury
"Everything is homemade. Everything is good. But everything is not perfect."
This is the mantra of an honest server at Bistro 185, and it's also a nutshell review of the restaurant.
Formerly the John Christie Tavern, the North Collinwood bistro was purchased and renamed in February by chef Ruth Levine and her husband, Marc. Like Ruth's Market House Grille, the couple's former establishment in Wickliffe, the casual neighborhood spot serves old-fashioned comfort foods and flavorful dishes with global accents.
The standing dinner menu lists only a handful of starters, salads and entrees. But at least a dozen specials are added daily. The lunch menu is limited to soup, sandwiches and salads.
After sampling several specials and standards, we had only two minor complaints: subpar black olives and an overdose of balsamic vinaigrette on a green salad. Everything else was perfectly prepared.
Appetizers -- glazed chicken pot stickers with sweet sesame soy dipping sauce ($8.50) and tender frog legs sauteed in garlicky lemon butter ($7.50) -- set the tone for a delicious prepared-to-order dinner on a night when overly loud live jazz made conversation impossible. The pot stickers bore a family resemblance to the potato pierogi served with a delicious entree of crisp, golden-brown chicken schnitzel ($13.50). Even more flavorful was tender sauteed calf's liver with soft onions, thick bacon, plain mashers and gravy ($13.50).
On a Friday, the daily soup was thick and hearty New England clam chowder deftly seasoned with fresh herbs ($4). The lunch special ($9.50) was a large portion of mild batter-dipped haddock with a side of rich mac-and-cheese, a signature at the former Ruthie and Moe's (Ruthie Helman is the bistro's day chef).
Recommended for meat-eaters is a classic Philly steak sandwich with zingy slaw ($7.95). Although house fries were included in the price, a side of sweet potato fries cost another dollar – a detail we did not learn until the bill was presented. Also extra, and worth the price, was a platter of sweet and crunchy onion rings ($4.50).
Fabulous desserts ($5.50), made off the premises by a superb home cook, include elegant Key lime pie with pucker power, crustless chocolate mocha cheesecake and coconut chantilly cake with fresh strawberries.
The quality of these sweets is worthy of a fine-dining restaurant, and the housemade dishes, too, exceed expectations. What a delightful surprise to discover such good food in the unpretentious environment of an old neighborhood tavern.
---
Chagrin Herald Sun
Something's cooking on East 185th Bistro 185 attracts diners from chic east side suburbs
Thursday, August 17, 2006
By Jeff Piorkowski
East 185th Street is just where Mark and Ruth Levine want to be. In February, the couple opened Bistro 185 at 991 E. 185th St. (the former site of John Christie's), after doing an extensive search for just the right neighborhood. We looked for about a year, Mark Levine said. We looked in our neighborhood (Pepper Pike), Beachwood, Shaker Heights. We liked the ethnic feel to this area. Ruth Levine envisions East 185th Street becoming the new Tremont, the near west side section of Cleveland that has become a favorite spot of young professionals and those seeking to get in touch with the homey Cleveland of their youth.
For 20 years, the Levines have operated Ruth Levine Events, a catering business, and, for a year, had a restaurant on Lakeland Boulevard in Wickliffe. One day, Cindy Barber of the Northeast Shores Development Corp. happpened to walk into their Wickliffe eatery. The Levines were looking for another location, and someone had told them to contact Barber about finding one. (Barber) told us they (Northeast Shores) were looking for a chef-driven restaurant to help revitalize the area. We started working with them, and this property came available.
Built in 1954 as Fritz's Tavern, the stand-alone building offered everything the Levines wanted. We took over Feb. 6, a Thursday, and opened on Monday, Ruth said, recalling their excitement to get started on East 185th. We had two goals – we wanted to have a great bar, and we wanted a great restaurant.
Each day Ruth makes up a new lunch and dinner menu. The Levines believe in going the extra mile so, for example, a recent weekday lunch menu contained prepared-to-order salads not found on most menus. One is a nut crusted goat cheese salad on a bed of field greens.
We buy (ingredients) in small quantities, so it's always fresh, Ruth said. We have one or two fresh fish every day – trout, walleye, salmon. Other favorites include chicken marsala, briskets with fresh mashers, and chicken paprikash. We have comfort foods that our moms used to make, but you don't see much now. People are loving it, Ruth said. Then there are the foods such as skate fish - a manta ray coming soon to the bistro – that most people never have seen or eaten.
The bar sells wines at $7 and $9 per glass; inexpensive but fine wines (Vouvray); and more expensive wines (Patz & Hall, at $48 per bottle). The Levines said the bar is catching on. It's fun for me to walk out (from the kitchen), when I have time, and see a roomful of people really enjoying themselves, Ruth said.
The Levines operate their catering business from Bistro 185, which means an expansion of the kitchen is in the offing. In addition, they've spruced up the patio.
The ambiance of the bistro is further enhanced by live jazz and a late-night menu offered from 10 p.m. to midnight Thursday-Saturday. The Levines operate under the theory that you're only as good as the last meal you've served. The Bistro is doing well, attracting customers regularly from Moreland Hills, Pepper Pike and Shaker Heights, as well as locally. In Cleveland, Ruth said, when a new place opens, everyone goes there for a while, then they move on. My goal is to keep people coming here because this is where we're staying.
---
Free Times Dining
Volume 13, Issue 50, Published April 5th, 2006
Comfort Food, Matching Prices – Bistro 185 takes the glorious middle road
By Douglas Trattner

SATISFYING AT LUNCH OR DINNER
Chicken schnitzel combines crunchy and juicy.
Photo by Anastasia Pantsios
In the midst of a recent dinner rush at Bistro 185, the husband-and-wife owners unexpectedly found themselves without a dishwasher. As dirty dishes began piling up in back, news of the misfortune filtered through the small dining room. One dining couple grabbed the attention of owner Marc Levine and said, "We know you guys are in the weeds back there, and we want to help." They stood, mid-meal, and marched to the kitchen to address the problem.
Bistro 185 is that kind of place.
Though it has only been in existence for two months, this eminently comfortable tavern feels as though it has been a part of the North Collinwood fabric for decades. Much of that goodwill, no doubt, was inherited from the previous tenants of the building, John and Beth Christie, who for eight years ran John Christie's Tavern. But assuming the torch admirably, Marc and Ruth Levine have been immediately embraced by the community.
In addition to their magnanimous spirit, the Levines have been welcomed largely because of the food they serve and the prices at which they serve it. Neighbors have thanked them for "not being another wing-and-beer joint," while others appreciated them for not being too upscale – with prices to match. No, Bistro 185 takes the glorious middle road, offering hearty made-from-scratch comfort dishes at blue-collar prices.
Fans of Ruth's Market House Grille, the Bistro's successful-but-brief progenitor, know that chef Ruth Levine is doing very little to help trim Cleveland's collective waistline. "Portion Size 101" is evidently one class Levine skipped in hospitality school. But size, as we so often hear, isn't everything. Fortunately, the food is both palatable and plentiful.
A core menu of items is augmented with daily-changing specials. Most entrees are priced between $13 and $15 and include a starch and veg. And while ordering an appetizer is downright foolish in light of the entree size, I couldn't resist an appetizer of frog legs ($7.50). Somewhere between fish and fowl, the succulent little drumsticks are sauteed in copious amounts of garlic butter and speckled with fresh parsley. The meat is sucked easily from the bones.
Handcut and French-fry thick, the fried calamari ($7.50) is unlike most served elsewhere. The lightly breaded strips are meaty and substantial without being chewy. If you prefer your squid thin and crunchy, you might want to swim away from this starter. It is served with a tropical mango salsa and a mustardy remoulade.
For the chicken schnitzel ($12.50), a chicken breast is beaten flounder-flat, breaded and pan-fried. The chicken has a satisfying crunch on the outside while remaining juicy within. Replacing a hum-drum heap of mashed potatoes, four potato pierogies, topped with caramelized onions, hit the spot and then some. The schnitzel also appears on the lunch menu in the form of a sandwich ($8.50), served with fries and slaw.
A wide and deep bowl of corn chowder ($4), presented with a basket of still-warm asiago bread, might have been a light meal elsewhere, but here it was just the lead-in to a lengthy repast. The chowder, pleasantly spicy and thick with corn, potato and bacon, was followed by an order of sautŽed trout ($14.50). This plentiful plate arrived with shrimp and sliced scallops literally tumbling off the summit of a trophy-size fish. A lemon-butter sauce flavored both the fish and a bed of rice pilaf.
A preposterously abundant portion of calves liver and onions ($12.50) requires a boundless appetite to see through to completion. Three slices of pan-fried liver are showered in sauteed onions and sided by smooth mashed potatoes. The four strips of bacon that garnish the dish, one has to admit, are simply gilding the lily, even if they are thin-sliced. Even the asparagus receive a tempura treatment, though, if requested, the kitchen will serve them simply steamed.
The bar is as cozy and cheerful as always, thanks in no small part to a bartender inherited from John Christie's. About a dozen beers are on tap and some 20 wines by the glass. Beers fetch $3.50 a pint and most wines cost $8 a glass, about a buck too much if you ask me. Within a couple weeks, a pared-down bar menu will feed bar patrons late into the weekend night.
John Christie's Tavern's vintage bowling machine was removed to make room for two deuces. This move proved quite prescient on a recent Friday night when customers streamed in for the weekly fish fry ($9.50). Utilizing every booth, table and barstool, Bistro 185 seats 75. Considering the friends, neighbors and fans of the Levines who showed up for dinner, the restaurant could have used a few more seats – say, 185.
---